MYSTIC FRAGMENTS

by
Joyce Cavalccante

art by Elvio Becheroni
[Texto em Português]
Texte en Español


My undisciplined gaze wander, often wandering where it shouldn't as if things that should or should not be existed. My gaze, moved by imagination detaches itself from reality and travels beyond this and other worlds that may exist besides these allowed to us. I can see whatever I want when I am creating. Incessant adventure is the act of invention. Materializing the abstract through one of the senses, of sight, for instance. The perceived world is intense and forced to silence. The undeclared is dominating. Simply looking at what thought can witness will turn all genuine. Resembling the Gods, or even being one of them. Daunting mortals, using their bodies, caressing them all over with the eyes, taking over their instincts as if our own. Telling deceitful stories, events which happened in the desire of memory. Explaining the sounds beyond the eighth note, the colors beyond the solar spectrum, the letters through those which faded out of the alphabet. Gazing at everything, indecently or modestly, not only with one's eyes but with all the senses, well beyond what the crystalline lens is capable of revealing.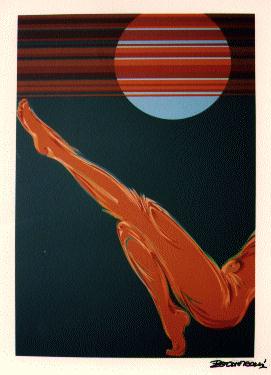 Dreams and proposals. Option. Should or shouldn't I watch this performance of joined thighs and controlled legs? Despite your modesty your gesture resembles a Phallus. Staring I desire it all for my own delight. I want. You a receptacle I a projection. Later we may alter our concepts, our position. There will be two equally smooth surfaces like complementary mirrors reflecting ancestral games as if they were novelties.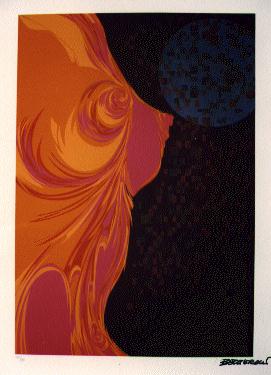 Let's establish I do not want to see your face. I want your breast. And when in this way contemplating you I believe the world is there, contained within your rosy nipples. ( I will gaze at only one of them to provoke jealousy in the other ). Then I will gather your sensations in my pupils and as a blessing I will share them, aiming a world of stillness founded on carnal poetry.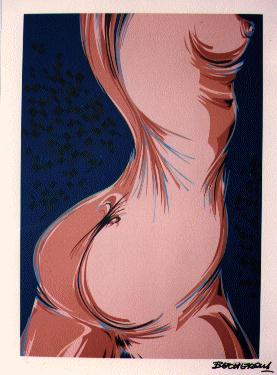 My eyes go round and around goes your body crafted in curves, the absolute definition of beauty. Your waist attracts fantastic possibilities. Showing yourself like this you feed my lust. You understand my altered desire. Consent it. Allowing to be contemplated as a pagan stone cut: woman, aim of my insanity.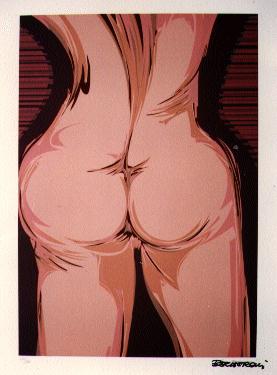 There, only a few degrees to the left, your behind is showing. It is a part of your body to be admired on one's knees, so similar it is to the altar of the most improper cathedrals. I cannot agree that this part of you is only muscles and lipids, it is more, much more than that. The matter here being a mystical detail.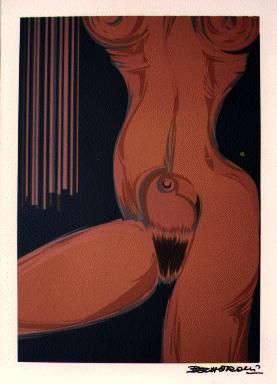 I now turn my eyes to your frontal shapes. Navel, pubis, holes, depressions, boxes of resonance, inside which prayers should be shouted. To penetrate you through an imaginary orifice, the kind of place through which the Devil goes in and out.
All of a sudden, with my gaze only, I soothe you. There your body, wet, exhausted, panting, tired. Your heart beating. In front of me a grateful woman, after the game between human beings.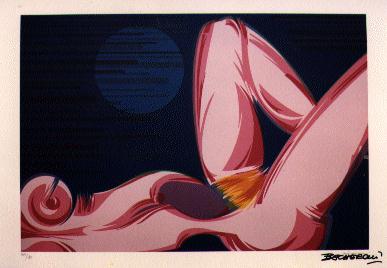 ---
Text of the album " MYSTIC FRAGMENTS".
Copyright © by Joyce Cavalccante
Translated by Celina Cavalcanti Fresbee
United States Literary Representative is Veritas Literary Agency
---
---
---
---
---

THANK YOU FOR VISITING US
[ MAIN ]
[ PORTUGUESE ]
[ FRENCH ]
[ SPANISH ]
[ ITALIAN ]
[ EVE'S RIB ]
[ FROM WITHIN OUTWARD ]
[ FREE & OBJECT ]
[ MYSTIC FRAGMENTS ]
[ DISCOURSE OF THE ABSURD WOMAN ]
[ INTIMATE ENEMIES ]
[ LINKS ]
[ ARTICLE ]
[ REBRA ]
[ MAIL ]
---
---
---
---
---